Think Tank Academic Research XR @ XR Hub Würzburg
07 Feb 2020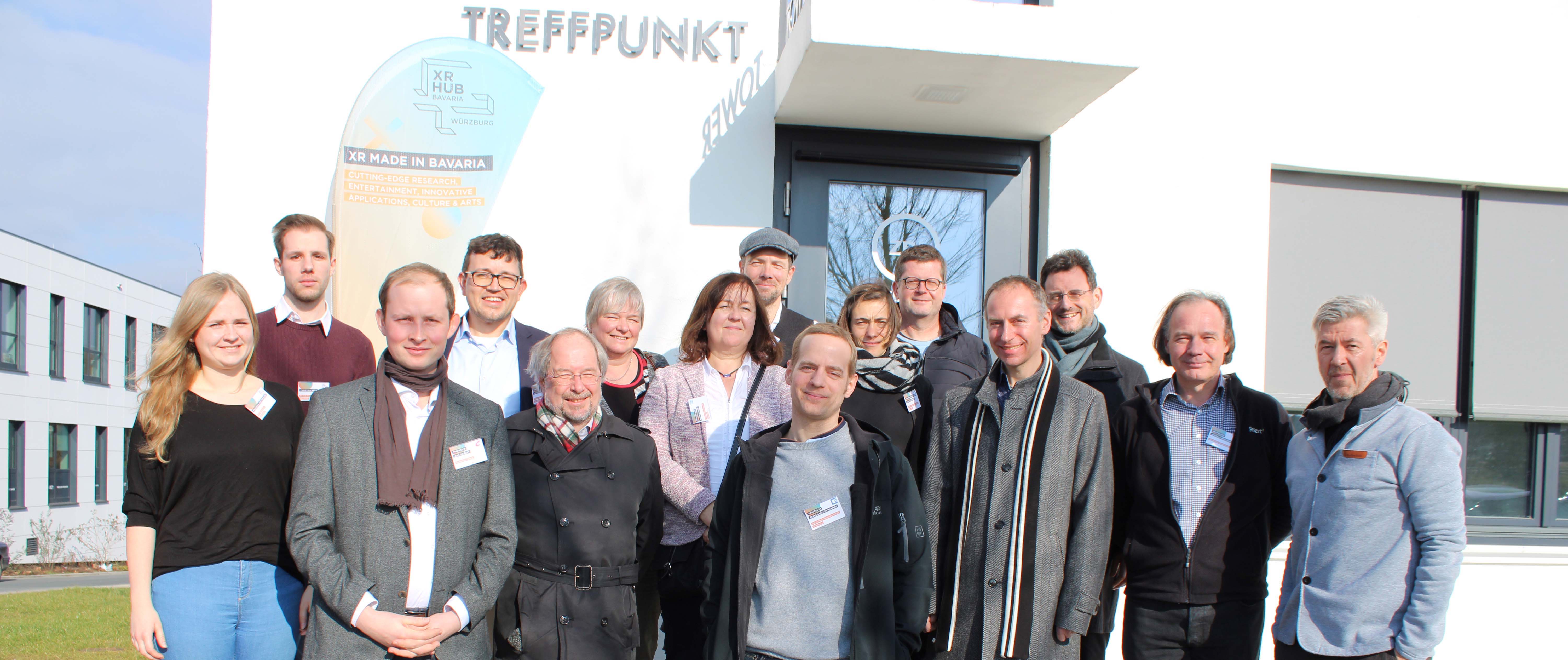 On the 7th of February, academic representatives of Bavarian research groups gathered to conduct the first Think Tank Academic Research in XR. The goal of the workshop was to interconnect leading researchers in Bavaria and to discuss project ideas and formats to support research in the area of XR in Bavaria.
Amongst the participants were Prof. Gudrun Klinker (TU Munich), Prof. Marc Erich Latoschik (JMU Würzburg), Prof. Heinrich Hußmann (LMU Munich), Prof. Jens Grubert (HS Coburg), Prof. Andreas Mühlberger (Uni Regensburg), Prof. Maria Bannert (TU Munich), Prof. Jochen Koubek (Uni Bayreuth), Prof. Marc Stamminger (FAU Erlangen-Nürnberg), Prof. Raphael Roßmann (TH Aschaffenburg), Prof. Sebastian von Mammen (JMU Würzburg), Jr. Prof. Carolin Wienrich (JMU Würzburg), Dr. Daniel Roth (JMU Würzburg/XR Hub Würzburg), Silke Schmidt (XR Hub Munich), and Inci Strauß (XR Hub Nürnberg).
The workshop showed the diversity, creativity and innovation present in Bavarian XR research and could initiate and substantiate interdisciplinary synergies. We thank the participants for participation and their positive feedback and hope that seeds start to grow with the help of the XR Hub Würzburg/Bavaria, and that we can welcome all participants to the next events.
The workshop was assisted and beautifully organized by our team Franziska Westermeier, Negin Hamzeheinejad, Larissa Brübach, Christian Merz, Linus Wamser, and Dr. Daniel Roth with the help of the ZDI Mainfranken/Würzburg (Tobias Griessing, Dr. Christian Andersen).
The XR Hub Würzburg is funded by the Bavarian State Ministry for Digitalization, headed by Minister Judith Gerlach (MdL).
Impressions