1st Industrial Think Tank
21 Jul 2020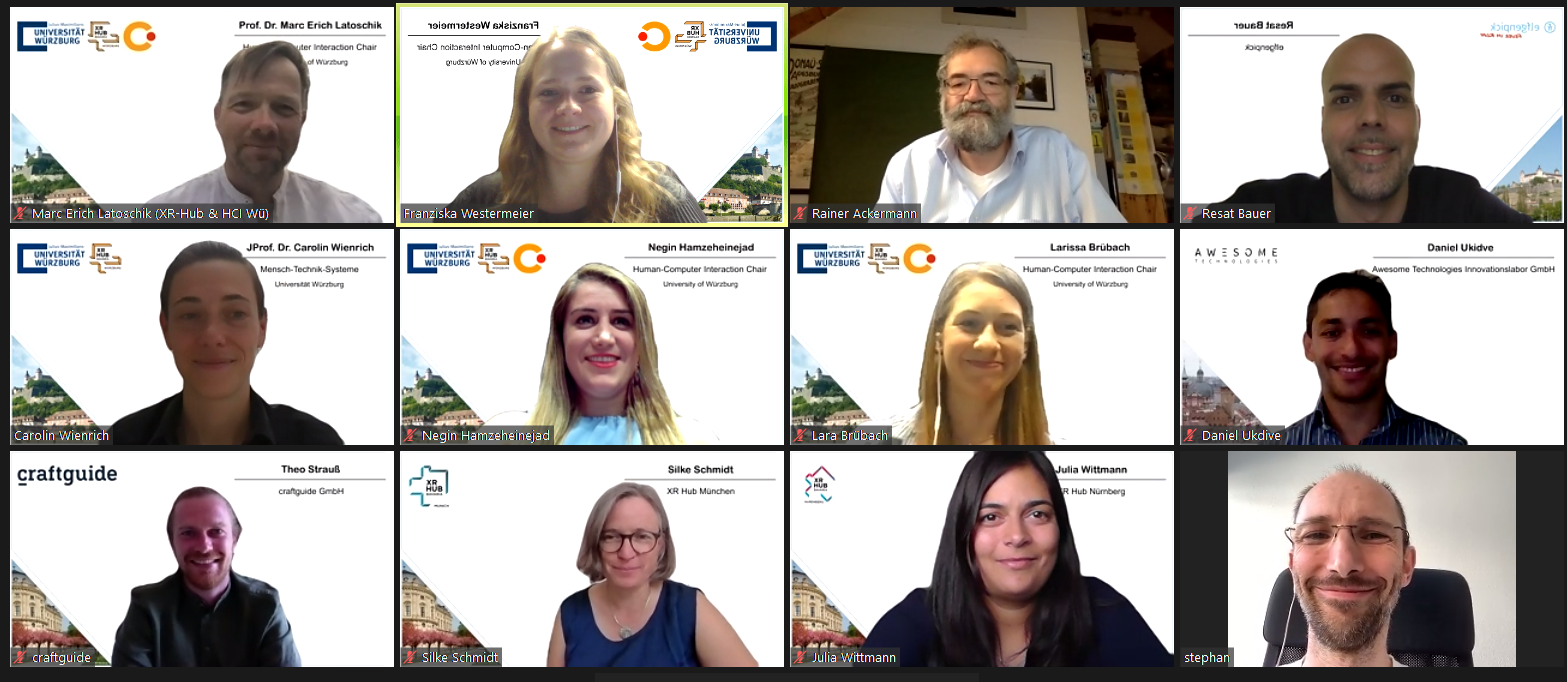 On 21.07.2020 the XR Hub Würzburg invited to the first Industrial Think Tank. Due to COVID-19, the four-hour workshop took place in digital form. In a mixture of information and interaction, the participants learned about the goals of the XR-HUB and even contributed future key topics.
Amongst the participants were Resat Bauer (Elfgenpick), Dr. Stephan Otto (Holodeck VR / SPREE Interactive), Theo Strauß (Craftguide), Daniel Ukidve (Awesome Technologies), Rainer Ackermann (Airbus Defence and Space GmbH), Silke Schmidt (XR Hub München), Julia Wittmann (XR Hub Nürnberg) as well as Prof. Dr. Marc Erich Latoschik, Prof'in Dr. Carolin Wienrich, Franziska Westermeier, Larissa Brübach and Negin Hamzeheinejad from the XR Hub Würzburg. The participants showed the wide diversity of XR-related projects in the bavarian industry.
During the workshop the participant were able to present the main topics they're currently working on, as well as possible projects in the future that they would like to work on. In a speed-dating like sessions everybody had the opportunity to talk to everyone in a short one-on-one meeting. The topics discussed in these sessions lead to further conversations about possible coorperation.
In addition to the Academic Think Tank, which the XR-HUB Würzburg held in February, a collection of needs and core topics of Bavarian developments and applications in the field of XR technologies was presented.
A further workshop, in which industrial and scientific partners will come together, will supplement and sharpen this collection with the aim of creating the necessary Bavarian networking for future-oriented synergies.
The first initiatives have emerged directly after the think tank in the form of joint BMBF project proposals between HolodeckVR GmbH (SPREE Interactive) and the University of Würzburg.